SERA™ - Measuring SEO Performance
Daily Search Engine Results Page tracking
Once we've established a set of keywords, we track your search engine positioning every day and can easily send you that data (this is Search Engine Results Tracking) but the real value comes from transferring the data we gather to our Search Engine Rankings Analyser (SERA). We always set-up keyword tracking and imports to SERA as part of our SEO service.
SERA - for intelligence driven SEO strategies
Working out which keywords you should be positioning your site for is a critical part of the ongoing process of optimising your website. Monitoring your position for those search terms is also vital. Analysing how your positioning changes over appropriate timescales gives the intelligence needed to form the right strategies for your business.
SERA is software we have developed for analysing changes in search engine positioning metrics numerically and graphically. SERA features a suite of custom metrics to help be smart about SEO. We use SERA to measure how well your SEO is working. Keywords can be grouped together into related groups for simple analysis. SERA is available via a simple web interface so you can login whenever you want if you want to take a look.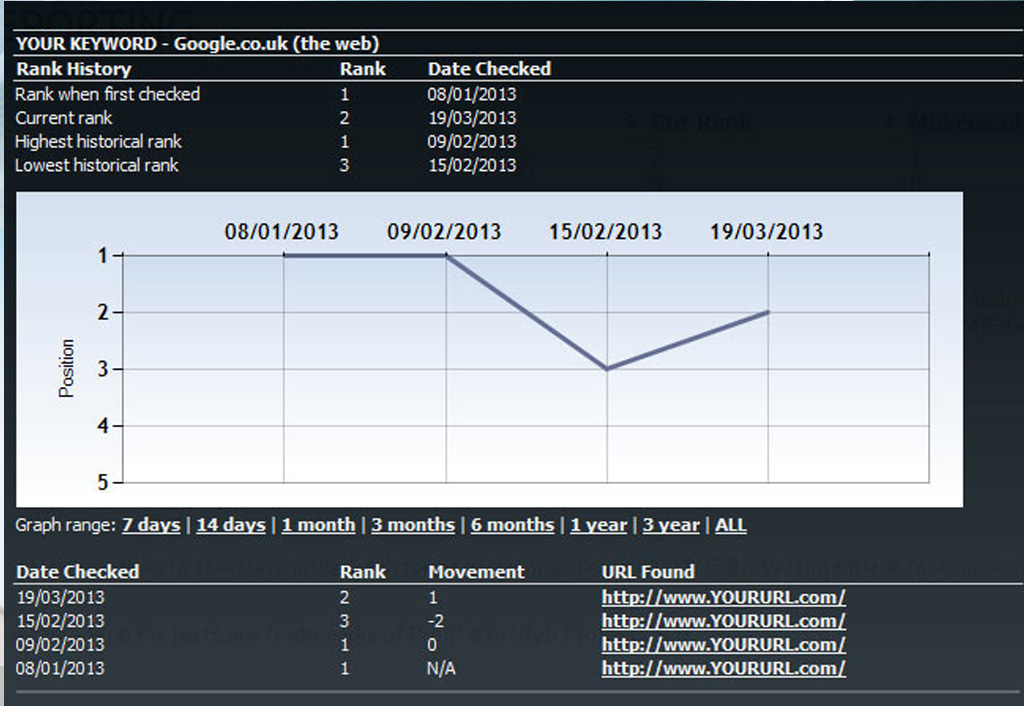 SERA as a standalone SEO Performance Analysis Tool
If you are tracking your own keyword positions and would like to benefit from storing your SERP tracking history indefinitely and the graphical analysis tools that SERA provides, we offer a DIY service, see our Advanced SEO services page.
If you're not tracking your own SERPs, and you want us to provide an end to end SEO performance measurement service, to provide the data you need, your in-house team need or your external SEO team - we'd be delighted to help.
You'd need to provide us with your list of search phrases (keywords) and to tell us which country and language define your primary target market . If you don't know which keywords to track, please consider our professional keyword analysis service.
---
Daily SERP* tracking and usage of SERA
*Search Engine Results Page
SERA SERP 50
£19.95
£19.95
50
Keywords
1 month minimum
1 Language
1 Primary target country
SERA SERP 200
£39.95
£39.95
200
Keywords
1 month minimum
1 Language
1 Primary target country
SERA SERP 800
£99.95
£99.95
800
Keywords
1 month minimum
1 Language
1 Primary target country
SERA SERP 2000
£249.95
£249.95
2000
Keywords
1 month minimum
1 Language
1 Primary target country
All SERA-SERP products are for a minimum of 1 month. We normally focus on Google and normally in your primary target market and target language. Prices above are for one search engine with one language and one primary target country.
If you have a bespoke SEO requirement you may be interested in our bespoke SEO services.
How is SERA better than Google Search Console?
With Search Console, your data is limited to the keywords that are generating traffic. Google decides what to show you. With SERA you can obtain the data for any term you specify.
Search Console shows you how your website positioned for each keyword in the past 16 months. With SERA, you can see how your keywords fluctuate over an unlimited time period. It´s often valuable to look over a 2 or 3 year timescale and occasionally over even longer.
If you work with PWP for SEO and pay for SERA too, because we store rankings data in SERAs database, we can query the database in any way we need to in order to draw strategic conclusions. You can also request us to do this for you as a paid extra if you use SERA but don´t normally work with PWP for SEO
At PWP we use a range of tools to analyse search engine positioning including our proprietary SERA system.
Thinking about getting started?
Our friendly and experienced professionals are just a call away.
Give us a ring on +44 (0)118 907 6212 or +34 938 021 278 or leave us a message.
We have completed projects for...